Push-fit & Pipes
Push-fit Pipes & Fittings:
systems cause to introduce push-fit systems that have more easiest & speed in performance & installation in addition to durability & strength. Push-fit system due to its exclusive advantages has continual insurance & make basal evolution in design & implementation of building's internal drainage system.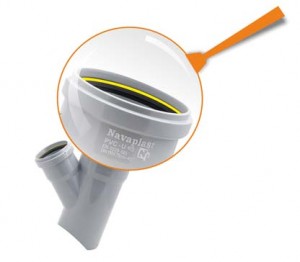 Advantages of Push-fit pipe & fitting:
- Complete & continued water stop.
- Unbelievable unique Swiss gasket
- No deformation of gasket during installation and high resistance of it against all chemical materials.
- Have 10 years Quality assurance & liability insurance.
- Creation sound Insulation bu using clamp With EPDM lining.
- No need to solvent, weld and like that , Also decreasing the time & Implementation cost.
- Maintenance free & long term reliability.
- Safe in firing
- Have Smooth internal bore, without any any snag against flow & thereupon pipe obstruction.
- Don't constrain extra load to building because of low weight.
- Capability of conformity and joint push-fit pipe & fitting to existence and old systems such as Solvent & Alloy.
Push-fit Pipes:
87 Wye
D(mm)
L(mm)
50
165
75
203
110
246
45 Bend
D(mm)
L(mm)
50
137
75
166
110
200
125
216
160
263
87 Bend
D(mm)
L(mm)
50
117
75
149
110
190
125
209
45 Reduced Wye
D(mm)
L(mm)
75×50
195
110×50
206
110×75
240
125×110
299
160×110
322
160×125
343
87 Reduced TEE
D(mm)
L(mm)
75×50
179
110×50
190
110×75
214
45 Wye
D(mm)
L(mm)
50
181
75
230
110
287
125
319
160
393
Invert Reducer
D(mm)
L(mm)
75×50
139
110×50
165
110×75
155
125×110
159
160×110
207
160×125
197
Access Pipe
D(mm)
L(mm)
110
246
125
269
Access Plug
D(mm)
L(mm)
50
76
75
88
110
108
125
109
160
125
Vent Terminator
D(mm)
L(mm)
75
2/15
110
2/20
Enbloc Siphon
D(mm)
L(mm)
75×50
86
75
88
110
95
Siphon
D(mm)
L(mm)
50×75
97
75
146
125×110
218
Elbow 90 with access Plug
D(mm)
L(mm)
110
195
Coupler
D(mm)
L(mm)
50
107
75
122
110
130
Socket Plug
D(mm)
L(mm)
50
41
75
50
110
60
Four way 45
D(mm)
L(mm)
110
292
Tee 87 with access Plug
D(mm)
L(mm)
110
250
Double Socket Pipe
Length
Size
cm
inch
mm
50
½2"
50
100
200
300
50
½2"
75
100
200
300
50
4"
110
100
200
300
50
5"
125
100
200
300
50
6"
160
100
200
300
One Socket Pipe
Length
Size
cm
inch
mm
30
½2"
50
50
100
200
300
30
½2"
75
50
100
200
300
30
4"
110
50
100
200
300
30
5"
125
50
100
200
300
30
6"
160
50
100
200
300